Two MC's hail Illinois marriage equality
WASHINGTON, D.C. (Press Release) — Rep. Jan Schakowsky (D-Illinois) released the following statement to mark the official beginning of marriage equality in Illinois. The Religious Freedom and Marriage Fairness Act, signed into law by Governor Pat Quinn last year, allowed same-sex couples to marry in the state as of June 1.
"Marriage equality is the law of the land in Illinois. This is a great day for couples all over our state, and I'm so happy for all of those who will be able to marry as a result. Today and going forward every committed couple in Illinois can enjoy the protections and benefits they deserve.
"I am thankful for the efforts of the sponsors of the legislation, my good friends, State Senator Heather Steans and State Representative Greg Harris. In addition, I am thankful that Governor Pat Quinn signed this legislation into law. There are also many groups and advocates that made this day possible and I am very appreciative of their efforts as well.
"This is certainly a time to celebrate, but the fight for marriage equality is not over. I firmly believe that every citizen in our nation deserves equal treatment under the law.  We must continue to move these initiatives forward in states across the nation, and on the federal level, through bills such as the Employment Non-Discrimination Act (ENDA) and the Respect for Marriage Act.  I will work closely with my colleagues on the Congressional LGBT Equality Caucus to work toward LGBT equality at the federal level."
Rep. Brad Schneider (D-Illinois) also released a statement:  "I'm proud that today, at last, all loving couples in Illinois can share in the joys and responsibilities of marriage. This was a hard-fought and landmark victory for the cause of equality. I'll continue fighting until all loving couples, not just in Illinois but across the country, can marry and make a life together. No matter who you are, you deserve the right to make a public, loving commitment called 'marriage'."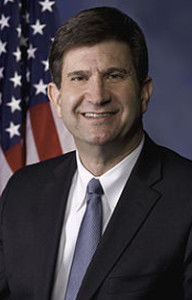 Brad Schneider
A vocal and active supporter of LGBT equality, Schneider helped introduce the Employment Non-Discrimination Act (ENDA), the Student Non-Discrimination Act and the Respect for Marriage Act—all of which aim to include LGBT Americans under the umbrella of protections enjoyed by the vast majority of the public.
*
Preceding provided by Congress members Schakowsky and Schneider …   Articles in San Diego Jewish World on Jewish Democratic women in the U.S. Senate and House of Representatives are sponsored by Laura Galinson in memory of her father, Murray Galinson.